May 10th, 2011
Last weekend's Toronto Comic Art Festival (TCAF) was amazing. Great creators. Great organizers. Great audience. This was a panel I was on with my favourite and funniest comic friends, Jay Stephens, Eric Wight and Steve Manale. We made some comics with suggestions from the audience. The festival is getting really good at programming and making space for kids thanks to Scott Robins.
I sat at a table in the TX room beside friend, Arthur Dela Cruz. He's a great guy to dissect stories with. Lots of people picked up my stickers, books and prints which was excellent.
For almost all of Saturday the library was packed and just barely maneuverable, startling shortly after it's 9am opening. The Sunday was a little lighter in traffic, especially early, but it was still full of curious comic explorers and good vibes.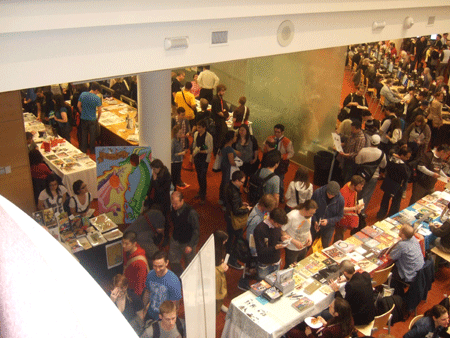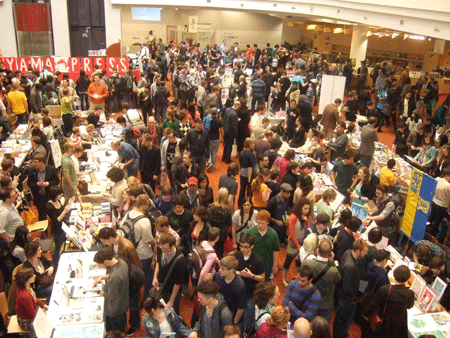 I upped my rate for caricatures and had fewer takers, but probably made about the same amount of dough. Here are some of the ones I remembered to take pictures of.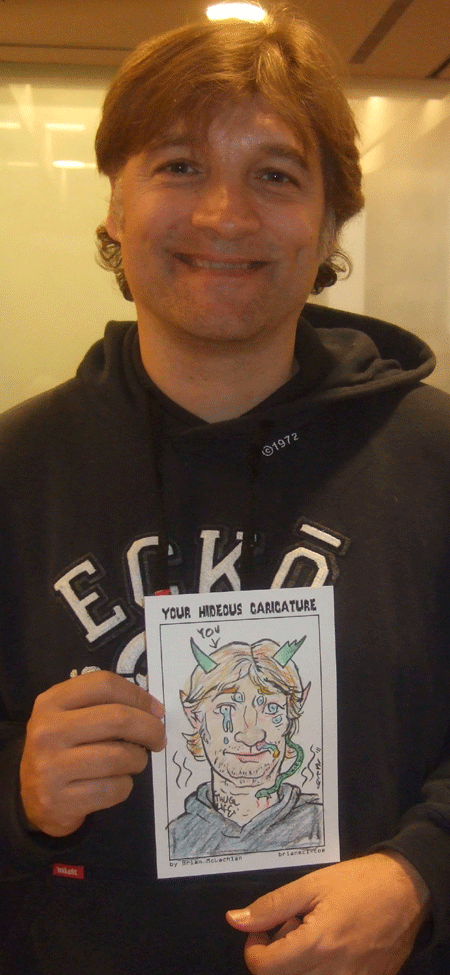 This guy was an honest-to-goodness gold prospector so I gave him a nose of/for gold.

Best reaction!
My buddy Hamilton aka Ham.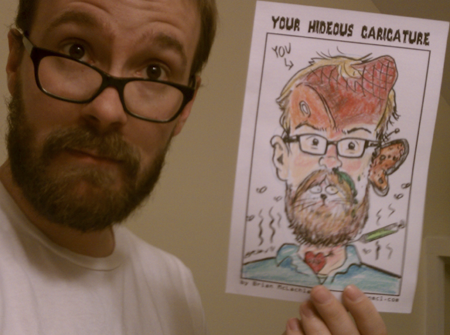 If the drawn caricatures dropped off, the written ones picked up. It can be hard to read the writing on some of these so I'll type out the text too. The first two were return customers.
"Smoky-eyed goth-banged neo-goth with grandpa-high-waisted grey diaper skirt and earrings like fish nets from PJs Pets"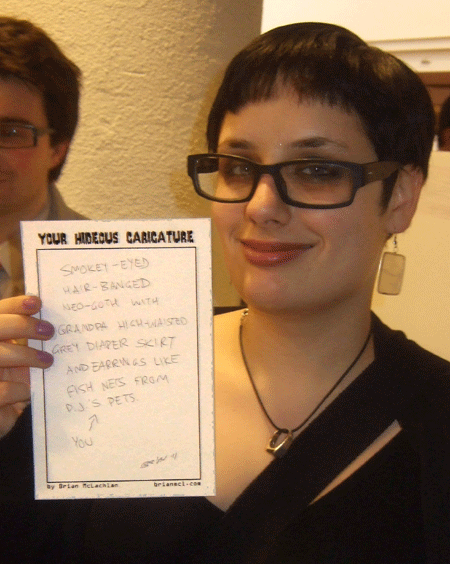 "Doctor Who Cosplayer from a 1980's alternate reality, with hair wedge like a soft lego piece, muffin top and baggy cardigan"
This guy was so energetic as I wrote his caricature so this photo doesn't do him justice. "Rhythmic tapping Gandhi from Clone High with plunging neckline to tease us with your secret tattoo. Also H & M wardrobe."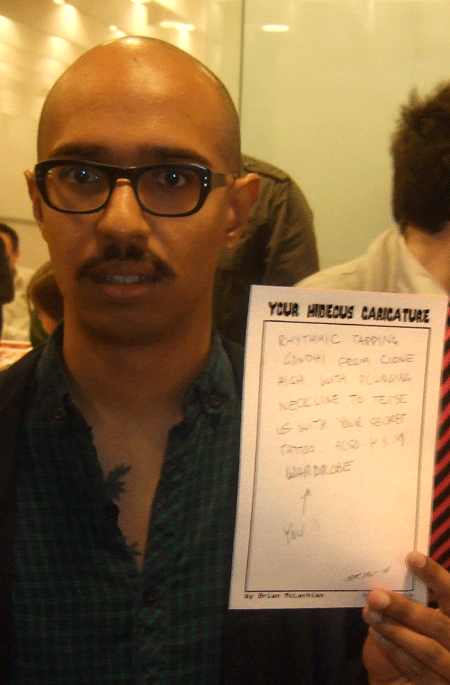 "Apple-headed rosy-cheeked fuzzy eyebrowed cutie pie with empire-waist linguini belt, fun flower skirt, Fink earrings and conservative sweater."
Katelyn interviewed me for Rogers TV a month or so ago. It was hard to hear my nasally voice on camera. I should learn to do them after big shows where I have a deep, soar throat from speaking over crowds and post-con party music. "Forehead hidden by hair helmet, tiny Marilyn-Munroe-moled, almost Much Music VJ/3 Fast 3 Furious character's girlfriend with no socks and cordouroy kicks"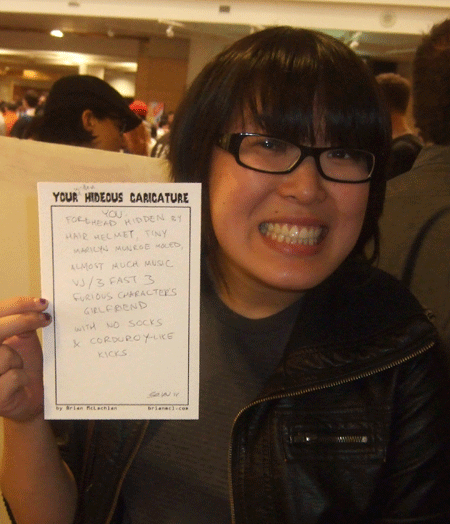 "Haircut like brunette Charlie's Angel, long lashed angled eyes, cutie pie with Punch and Judy chin, Lego watch and BMX Bandit attitude."
"Clear-eyed Lynda Carteresque string bean with hearty black-nailed hands, Carol Alt smile and lazy Sunday hair-do".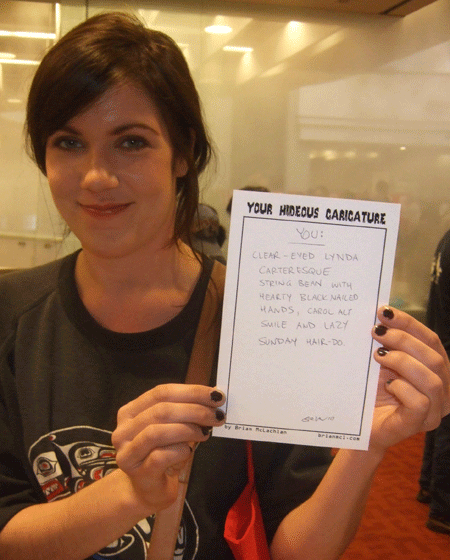 "Gentle Macho Man, with faux mascara eyes the colour of blue freezie pops and hair & beard that are the same downside up"
"Top-toothed vampire smile with double (( parenthesis )) smile lines on fuzzy stubbled face with potential unibrow above hipster glasses"
And this is the awesome loot I got. I finally got the Machine of Death book I have an illustration in. Scott Chantler's WW2 comic that's based on his grandfather's experiences is one I've been looking forward to. There's comics by super talented ladies Emily Carroll and Vera Brosgol who also do a beautiful tumblr of drawings of old fashion. There's also John Martz's Heaven All Day, Gastrophobia which I've been digging as a webcomic for some time, The Anthology Project part 2, wicked stuff by Becky and Frank, Adrian Alphona, and Jess Fink. I hope you all got some good stuff too! TCAF is now becoming a real destination show, with lots of creators and visitors coming from all over. I'm very lucky to have it in my backyard.