July 31st, 2009
After a wonderful ceremony, great party and amazing honeymoon, I'm back in Toronto and making funny pictures.
We stayed at a resort in Maui, adventured around the Big Island and then spent a couple days in the big city of Honalulu in Oahu.
There's an active volcano on the Big Island and unlike when Mark Twain was there, the top is no longer filled with churning bubbly lava.  It's crusted over with steam escaping from various cracks. There are a three calderas in Volcano National Park and one of them has a trail you can walk down and across the top of the actual active volcano. Crazy. Very safe but still it felt freaky walking across this rock.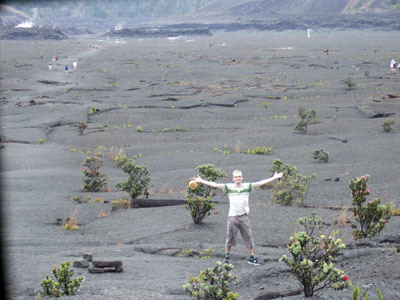 When the radio wasn't blocked by the volcanic mountains and making static, we heard an ad for a local restaurant that featured some amazingli hilarious sounding burgers. Our little blue book, The Big Island Revealed, gave a good rating and said it was a wonderful place to watch the sunset, which was right around the time we would have made it there. So we went to Lulu's for dinner and had some good grub. Or Ono Grinds as the islanders might say. The book, by the way, was amazing and a super help in getting around and finding all sorts of beautiful, unique little spots and giving honest opinions on things to see and places to eat.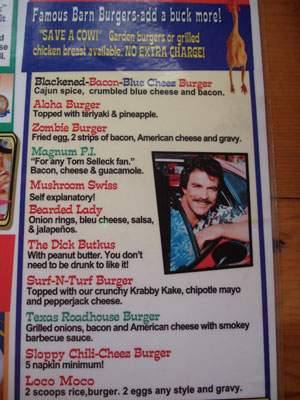 We also tried some sweet potato ice cream (which grow purple on the island because of the volcanic ash) and Shave Ice which is like a snow cone but better.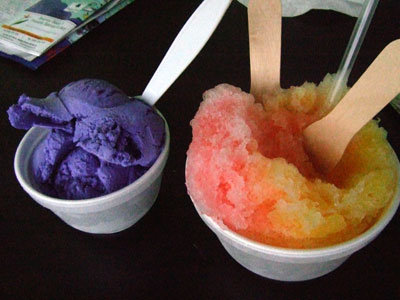 I've had lilikoi (passion fruit) lemonade and homemade chocolate mac nut cream pie at the southernmost restaurant in the United States. I don't know if that counts as an accomplishment but it was delicious. Here I'm getting into the spirit with a Tom Sellek style shirt. My wife evern wanted me to try to grow a moustache, which has turned out less Magnum PI and more Higgins.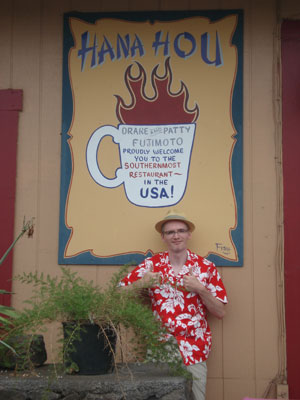 We also rode bikes down an inactive volcano, snorkeled with sea turtles and iridescent fish, paddled an outrigger canoe, ate a 9 course tasting menu at Spago that was tastebud-blowingly good, walked among giant trees atthe Botanical Gardens (where they had weird plants like White Bat Plant, Mule's Hoof and Cat's Whiskers), swam at a black sand beach, got lost in fields of jagged volcanic rock and learned a lot about anicent and modern Hawaii. I would love to go back. If there is ever a comic con in Honolulu's impressive looking convention centre (or someplace smaller) I'd totally be on board for that! Someone on Maui told us that it was the third largest artist hub after Paris and New York. Every roadside coffee shop, hotel lobby or shopping mall had a gallery of paintings, glass, brass or jewellery. Does anyone know if there's a comic scene there at all?