May 14th, 2013
No surprise that TCAF was super fun again. I sold lots of prints, drew lots of awesome spirit animals, and met lots of great people. As a free library show, it really has a great vibe. By the end of the show, I've done so much talking (and yelling over music and crowds at the afterparties) that my voice is a nice, deep, sonorous tone. I should yell more often so I can get a job doing the voice over in truck commercials.
I spent an hour at the Owl table sketching mermaids and monsters for kids and parents.
Then I did a talk on sound effects, BAM!
I was lucky enough to have my friend and Frank Pickle author Eric Wight join me for the presentation. We challenged audience members to give us sound effects to illustrate. My toughest one was Fooshkumi, which I decided was the sound you hear when you summon a genie.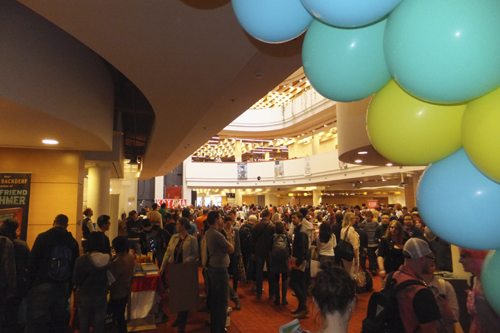 The place was packed the balloons let you know this isn't a comic convention, but a comic festival!
This was the piece I had in the Strip Search show they had in conjunction with the show. They asked us to draw something on the Toronto Comics Art Festival, so I applied them all to dinosaurs. Toronto is represented by the Raptors logo. Comics by the T-Rex from Ryan North's Dinosaur Comics. Art by the fact that its a drawing. Festival by the pizza stegosaurus.
I drew people's Personalized Awesome Spirit Animals again. Before the show I warmed up by drawing some of the organizers.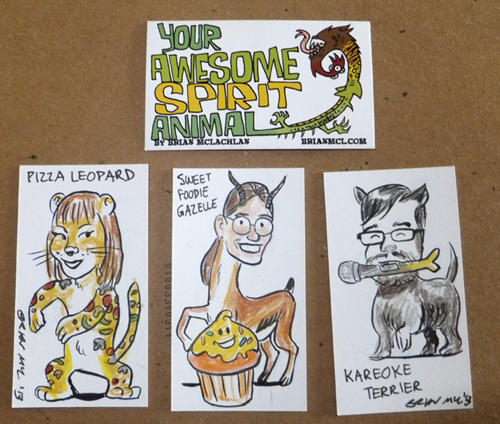 More organizers

And fellow cartoonists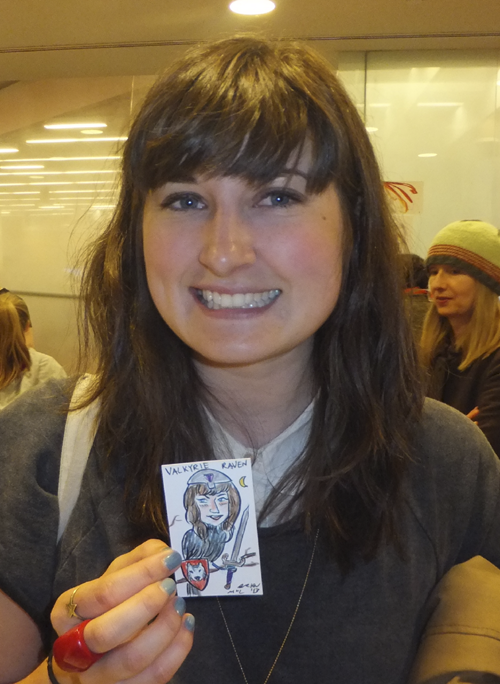 Valkyrie Raven.
Sweet tooth Cat.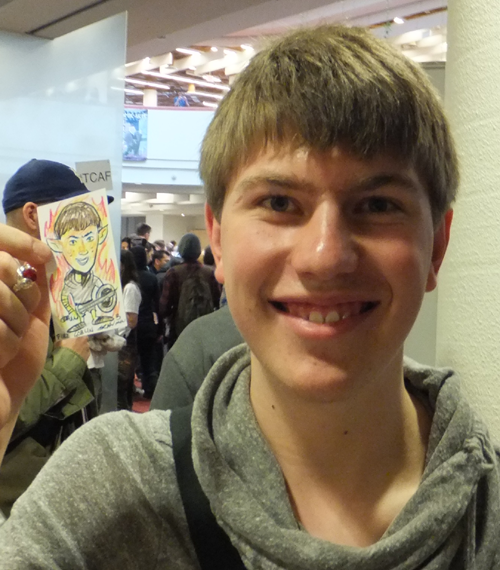 Fire Goblin
Elven Cupid
Panda Sorceress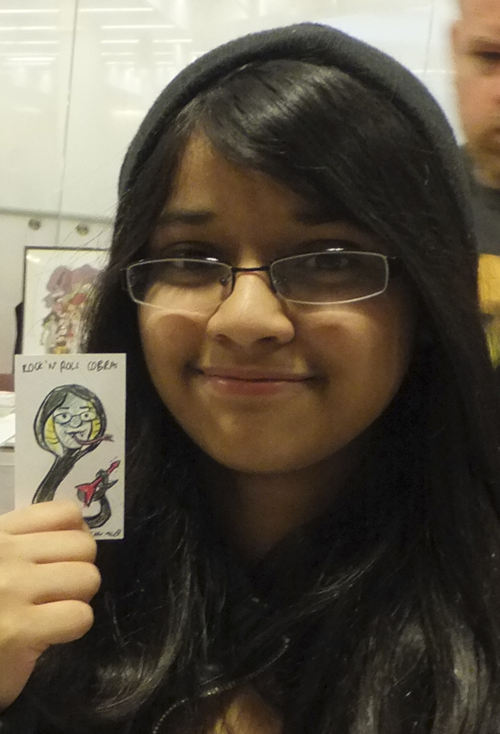 Rock N Roll Cobra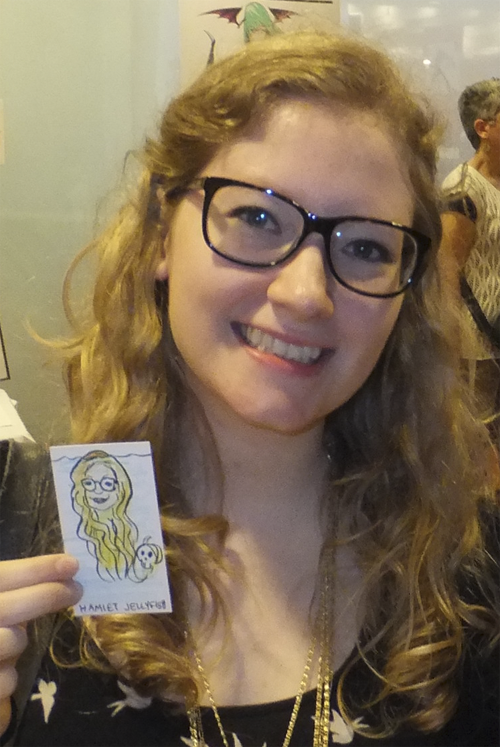 Hamlet Jellyfish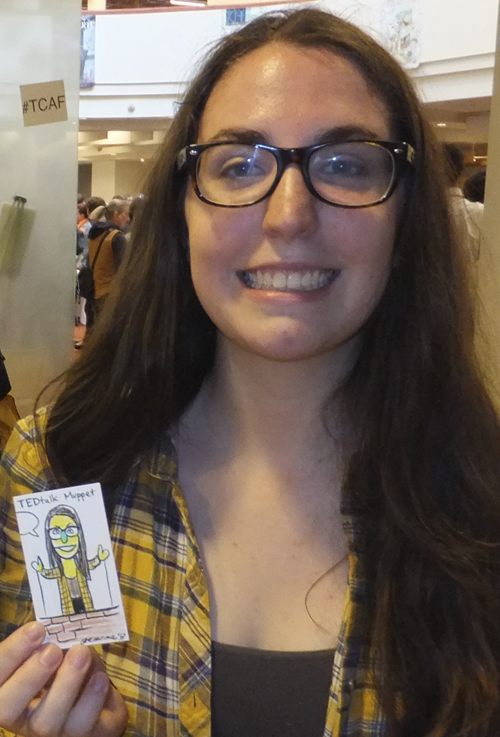 TEDtalk Muppet
Sorceress Shih Tzu
Rainbow Kitty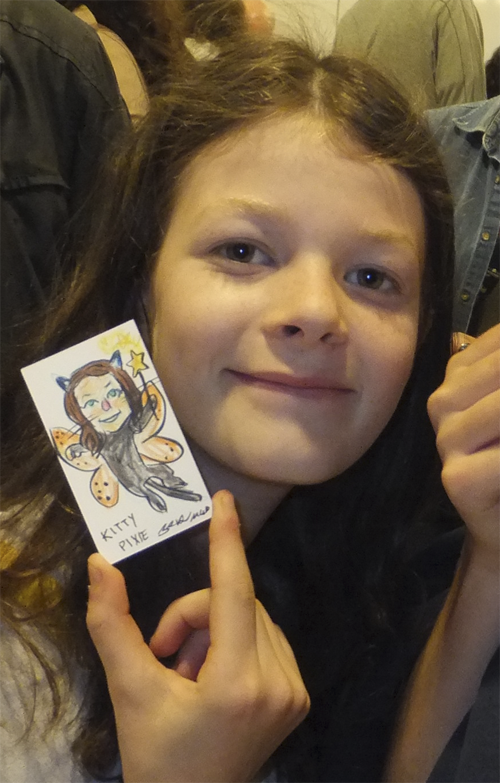 Kitty Pixie
Werewolf Sailor
Death Turtle
Electro Hedgehog
Barbarian Yoda (oxymoronic!)
Beauty Wookie
Muppet Wolf Man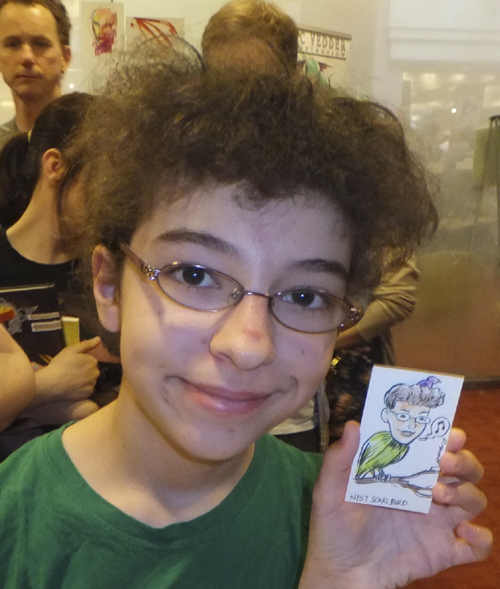 Nest Songbird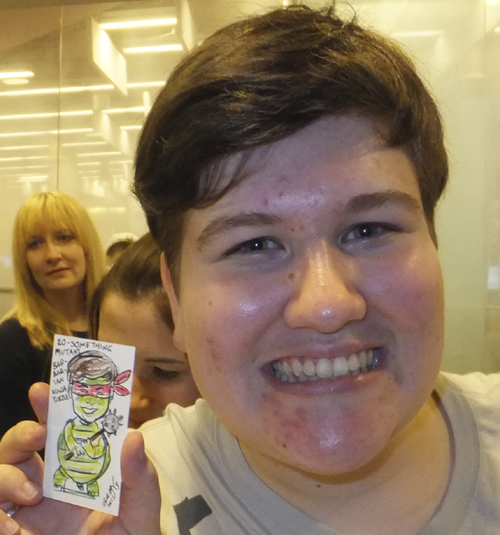 20Somthing Mutant Barbarian Ninja Turtle
Witch Kitty (she can be her own familiar)
Cupcake Phoenix
Frankenstein Werewolf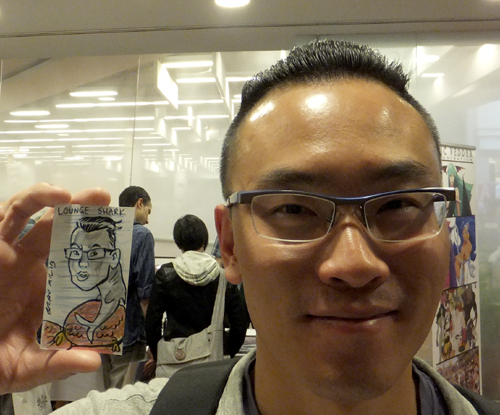 Lounge Shark (must keep moving but so laid back)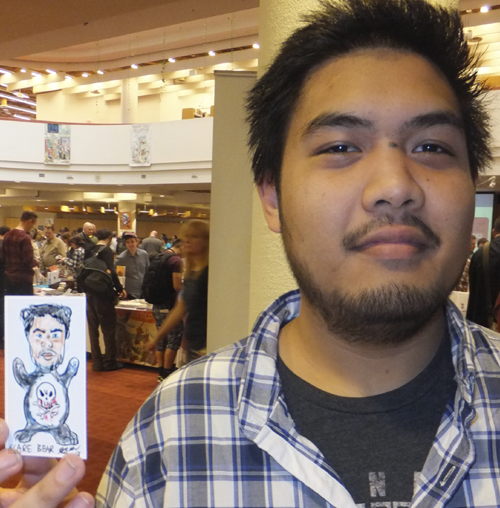 Scare Bear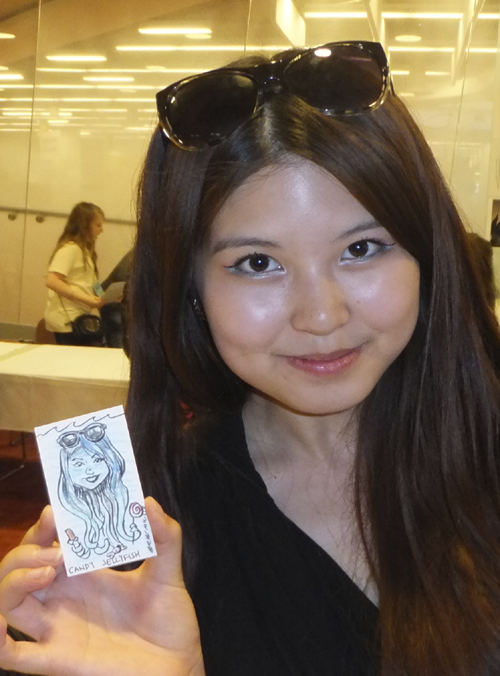 Candy Jellyfish
Werewolf Unicorn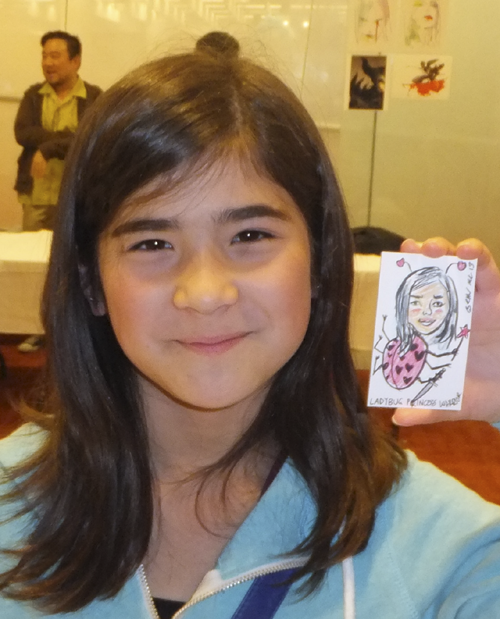 Ladybug Princess Warrior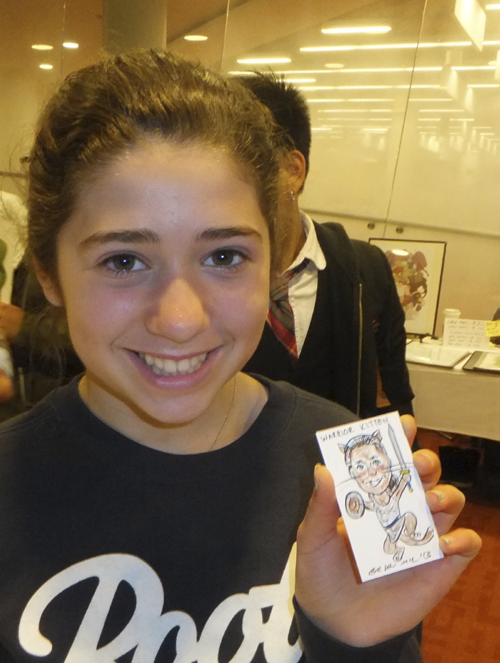 Warrior Kitten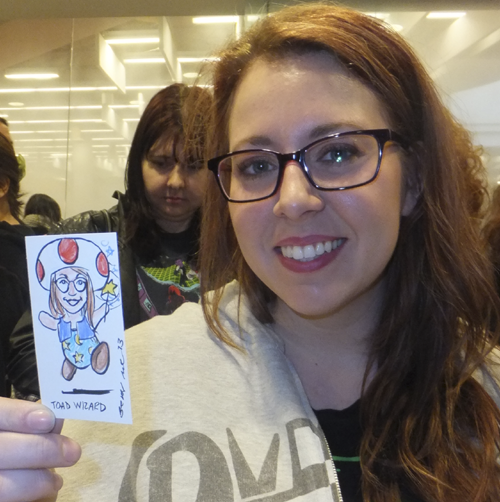 Toad Wizard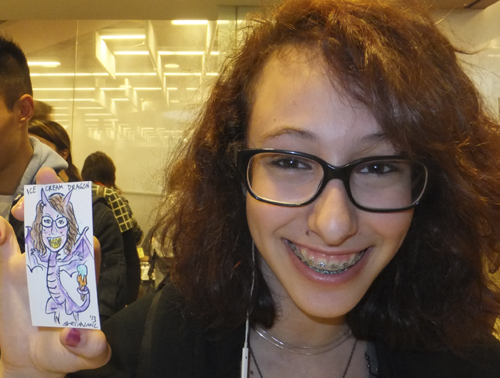 Ice Cream Dragon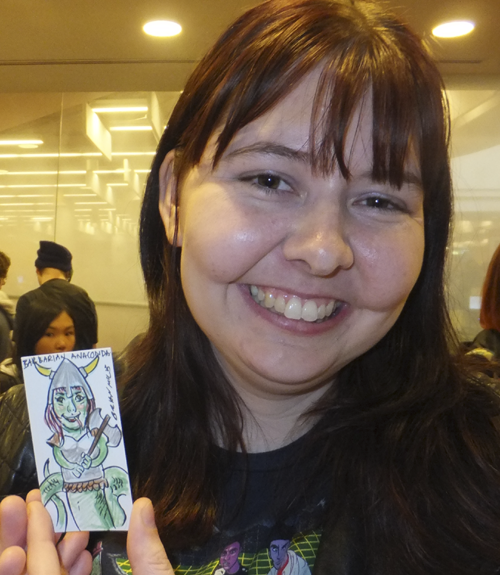 Barbarian Anaconda
Yoda Mage
Robot Devil.
Vampire Book Firefly (giving own light to read by!)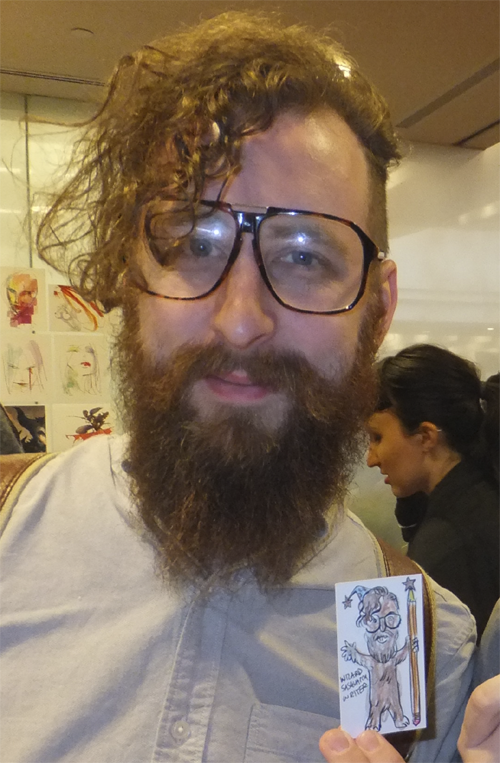 Wizard Sasquatch Writer
Rainbow Ice Cream Owl
Rock N Roll Monkey
Vampire Tape Worm The Grouch