September 1st, 2009
Fan Expo is on its way to becoming San Diego North. On Saturday, the giant aiport hanger-esque convention centre had line ups of thousands of people around the block trying to get in to see Bruce Campbell, Leonard Nimoy, booth babes, booth beef and of course, more of my hideous caricatures ;). The only time I've ever seen a line of people that long before it was called a parade. And both had people in awesome costumes. Actually there was another lineup that was almost as long that weekend. Leaving the show on Sunday night, we ran into the crowds of childern waiting to get into the SkyDome for the Jonas Brothers.  Comicons: bigger than Jonas!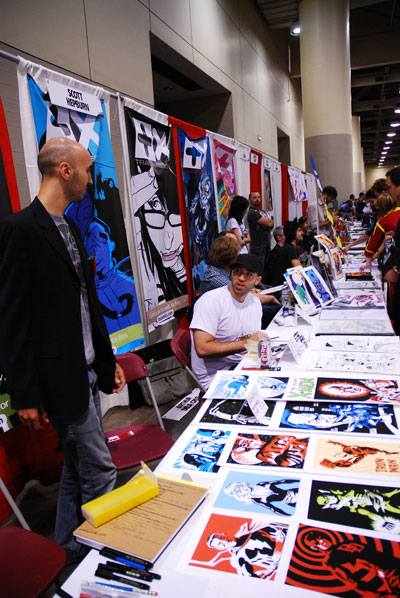 (this photo by Jason Blakely, see more Fan Expo pics on his Flickr)
All of the TX crew lined up along the back wall in the Special Guests area where we met with our existing fans and a heck of a lot of people open to discovering new comics. Karl Kerschl said 75% of the people that came up to him were interested in his TXcomics' Charles Christopher strip, rather than his DC Wednesday Comics, Teen Titans or other industry work. And Ramon Perez said he had a simliar experience with Kukuburi. A lot of the people that came to see him had never been to a comic show before but came down because they loved his webcomic. And lot of his Butternut Squash fans were also excited about the soon-coming relaunch. (Butternut Squash is another of his webcomics, not a signature dish, although I hear he cooks a mean toast sandwich). In fact all of us were at least as well known for TX as our indutry day jobs. Hoorays!
On Friday we did a panel about making webcomics that was both informative and entertaining, like reading an instructional manual with "robot-flavoured" mad libs. Before the panel Andy declared if there were 50 people there he'd eat a live mouse. We didn't quite make it but then again, it was a "slimy" last minute panel. Next year I hope he ups the ante to a "fire-breathing" "octopus".
A few weeks ago I posted a comic where Princess Farrah decided to do written caricatures of people. At the show I gave it a shot and I actually got a few customers and more than a few smiles and laughs.  Here are a couple of the people who were game and I was kind to.  I think I might have offended the guy I described as a "Wall Street Goth with blonde bacon hair and nose not quite big enough to really make fun of".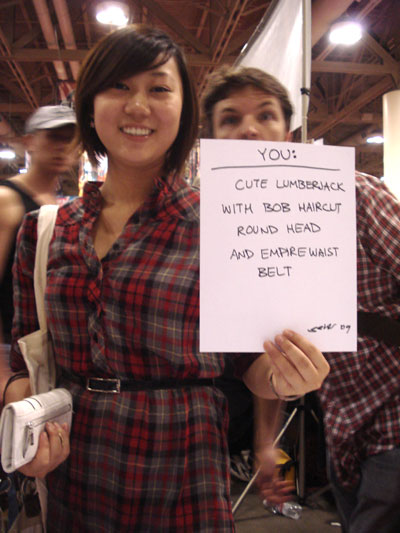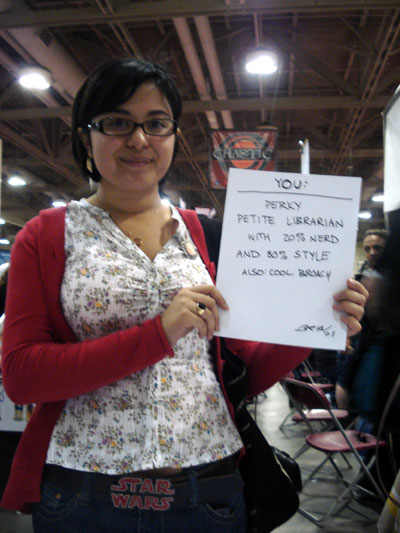 There were also some people fun/brave enough to offer their faces up for hideous caricatures. The guys even had me draw their friend from a cell phone photo.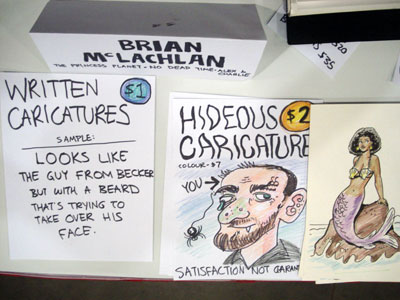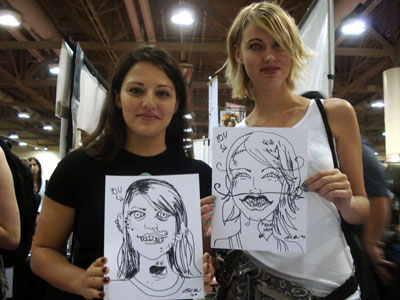 Also super fun was sharing table space with Batman who was drawing weird pictures of himself for funds to replenish his low supply of batarangs, batmobile fuel and apparently shaving razors.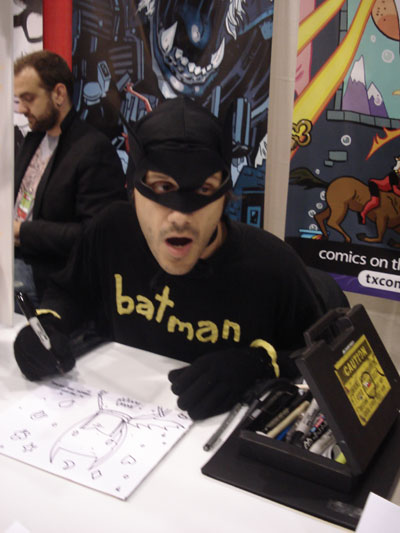 The Fan Expo is getting so big it probably won't be long before the multi-million dollar movie pushers show up with their life sized plastic replicas of spaceships and plastic celebrities. And strangely enough the other thing that's missing from San Diego is original art dealers. I miss flipping through classic original art and seeing the raw ink and pencil. Good thing most of the artists bring their own art to sell. I think Darwyn Cooke's book of original sketches was plundered by shoppers in the first few hours of the show on Friday down to about 3 pictures left. While I love sitting beside Dar at the post con dinner, sitting beside him during the show is another matter. The one place I found the show problematic was its placement of comic book stars in an areas where line-ups could not be controlled. He sat beside J. Bone who make a perfect team. You can get your Spirit and New Frontier signed by both at once. But then the line up spills in front of other tables. Poor Willow Dawson had her table blocked a lot by people waiting for Darwyn (even when he wasn't there, just lingering until he showed up again). This would be great exposure if they had any crossover of fanbase but while Darwyn writes and draws the manliest men in comics, Willow writes and draws the strongest and most admirable women in comics. And I was on the other side drawing princesses and caricatures which was also not their bag of tea. I saw this happening with other big name artists along the Special Guest wall. I'm not sure why cult television and movie stars are put on the ends of the convention centre with plenty of space for managable line ups but New York Times bestselling comic authors aren't. Darwyn was great about it, repeatedly trying to find someone to help wrangle the gathering hordes but his attempts came to no avail. Hopefully they'll get this ironed out for next year's show.
Speaking of cult movie stars I was also lucky enough to finally meet Erin Gray. Although she does a lot of these cons I haven't seen her since I got the Buck Rogers Dvd set and remembred how much I loved the bananas out of that show. Anyone following my "Artists Who Inspire Me" thread on the TX Forums knows that her headstrong attitude and slender space suits have had some influence on Princess Christi's design.  I almost missed her because she was a last minute addition to the show but I tracked her down for a chat near the end of Sunday. She spoke frankly but professionally when she answered my questions about working on Buck. Mrs. Gray is a real class act and she looks amazing, even all these years later. Mike Cho was nice enough to make the donation to charity for the photo. High fives, Mike!
It was also cool to talk with cartoonist Doug Sneyd again who like me and many other Toronto area illustrator/cartoonists have worked for childeren's books, textbooks and the Toronto Star on their way to awesomes. Hopefully one day I'll be even a 100th as good as watercolours as he is. His companion in crime, Heidi was taking photos of every costume that went past but I think my winner for favourite costume of the show was probably Steam Punk Storm.
But the most hilarious costume was the guy travelling around with Emma Frost who unintentionally dressed like Cameron Stewart with glasses. Then again, all of us TX comic creators are so handsome, who can blame someone for dressing like us. 😛
(Photo of fake Cameron by J. Bone, real Cameron by Mo De Sousa)
And as always, it was also super cool to hang out with Jay Stephens and his brother. Jay always has great stories and has got me seriosuly considering joining the National Cartoonists Society. It sounds like a great time. I picked up his how to draw books for kids and they are super amazing. He knows how to break things down for kids to understand and the text is so encouraging and funny. If you know any kids who want to learn to draw, buy them his books, Monster! Heores! and Robots!
But it wasn't all dudes hanging out this weekend I also got to know three lovely ladies who deserve links. Kim does a webcomic about Abe Sapien and Kroenen from Hellboy falling in love in a parody of fan fiction, Meghan has a nerd blog (and the best Cooke designed catwoman costume) and Kayla's blog covers all sorts of fun things from music to comics to pies.
I remember when Fan Expo used to be held in the front part of the convention centre where sunlight streamed in through the high windows. I miss that part of the show for sure. But I'm glad it's growing and that at least half of the people I talked to weren't there to see any particular person or thing, but were just there to check it out and celebrate in all things kooky. There was room for science fiction stars, zombie makeup, anime cosplay, "hilarious" t-shirt vendors, and refreshingly, even comics!
You can read TX Fan Expo coverage on the forums here and check out more Flickr photos.