May 13th, 2009
The Toronto Comic Art Festival was the awesomes! My friends Steve Manale, Chris Stone and I set up a booth to do Hideous Caricatures of people and we were non-stop busy like Santa on Christmas Eve. People howled with delight over our terrible likenesses. It was the closest I'll get to doing stand-up comedy. It's not often I get to hear a laugh immediately after I finish a drawing. A lot of the time time there was a fun loving crowd of people clucking and jibing the subject. It was nicer than having that table between me and the crowds of con goers. People actually sat down and chatted and laughed and then went off.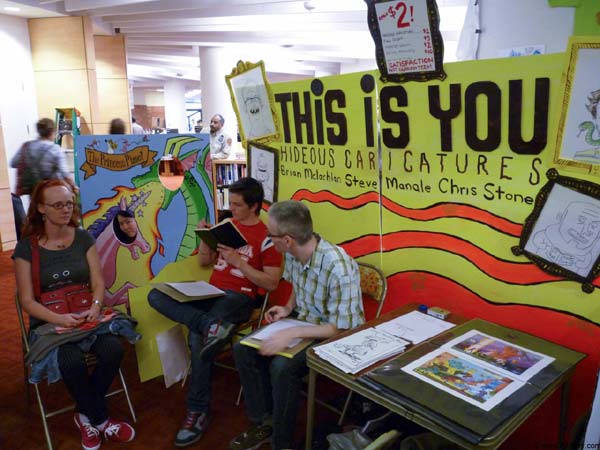 Above: This lady was reporting for the Torontoist. We didn't make it into her final article. I think the caricature might have been the swing vote.
Above: Artist Jay Stephens apartently peed his pants.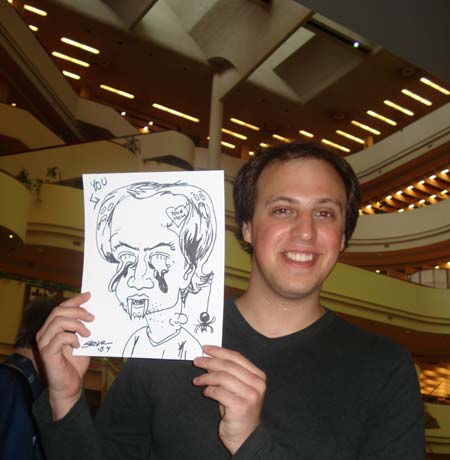 Another highlight of the show was receiving an amazing piece of art from a fan named Kathleen. How totally awesomes is that!? It's like getting a gift from Santa in May! (There will be a better picture in the fan art section)
I set up a "stand-in" for people to take photos which was also fairly busy. Some people may even have noticed that it was associated with a comic they'd never heard of. 🙂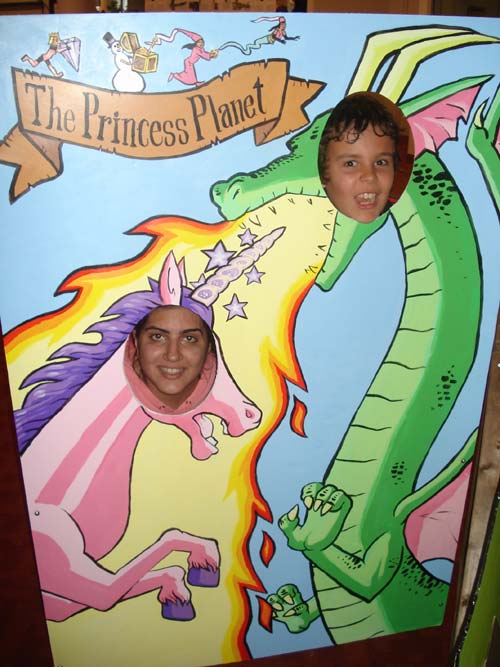 Outside of the con, I got to hang out a bunch with Eric Wight, author of Frankie Pickle which is an all ages book that super fun. Eric's a really great guy and friendly as Santa Claus discovering some home made gingerbread. Although on the Saturday I realized that he, Jay Stephens, J. Bone, Sean Wainstiem and I (and at least 2 other people I didn't know by name) were all wearing light blue plaid shirts. It was like the new comic nerd uniform or something. No more XL black tees or all-over-print Spider-Man Hawaiian shirts and non-sports related baseball caps. Or maybe TCAF was just that kind of con?
Above:  Eric and J. Bone fight with the comic book display in a rich person's clothing store.  Comic books mean POW! and people in masks.
Here's a photo I nabbed from someone on Flickr that showed some of the layout of the library. If you've ever read the amazing Scott Pilgrim graphic novels, you'll know this library as where Knives Chau had a kung fu-tastic fight with Ramona.
It was certainly the best show I've ever done and I had the most fun, like lighting the menorrah on Channukah with Santa!